---
{ Salt Lake City Utah Photo Booth Rentals 801-580-9564 }
---
Photo Booths come in all shapes and sizes –
so it's important to know what you're buying!
Unlike some jimmy-rigged booths, ours aren't made in our garage using sprinkler pvc and grandmas old curtains.  And no need for that awkward guy sitting beside the photo booth hitting print on his inkjet printer and waiting two minutes for every print!
Our photo booths are professionally made to run practically on their own!  Your guests choose their props, jump in, press start, and it automatically begins the countdown to FUN!
When the "four photos of fun" are done, our photo booths only take 11 seconds to automatically shoot out your personalized double strips – so there's no need for the delayed satisfaction of seeing your awesome photos!
---
We have two full sets of props to suit the feel you're going for:
Traditional funny/goofy props like feather boas, police hats, and jumbo sunglasses.
Vintage/Old Fashion with mustaches, vintage signs, and grandmas stylish old scarfs and hats.
Your Choice of "Open Air" Photo Booth or "Enclosed"!
"Open Air" allows you to fit MANY more guests into each photo, and allows different guests to easily jump in and out (even a few photo-bombers)!
"Enclosed" (for $99 more) has a full curtain around the Photo Booth and although more "private" can usually only fit three people.
Your choice of NINE different backdrops!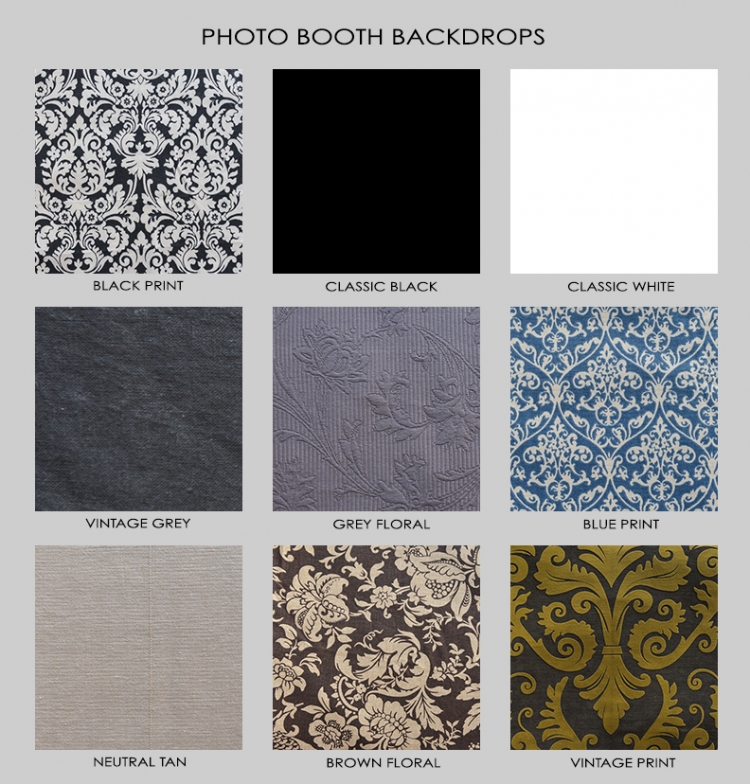 ---
There's NOTHING more fun than a photo booth!  801.580.9564
---
Salt Lake City Utah Photo Booth Rentals – Serving Salt Lake County, Utah County Photo Booths, Provo Photo Booths, Utah Wedding Venue Photo Booths